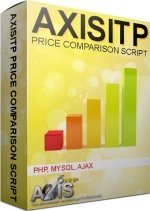 AxisITP Price Comparison Script is a great script which enables you to run your own shopping comparison website. The script helps you to start an online business where people can search the great deals on your website and make purchases. You can make money through Adsense, merchants, advertisement and affiliate commission.
The AxisITP Price Comparison Script provides two kinds of functions. The first model is to run the website like a price comparison website and another kind of model is to run the price comparison engine where you can provide APIs to other affiliate partners so they can run their own price comparison website. Using the second option you will be a potential competitor of the major comparison website. Your affiliate members can register on your website and they can access your API to run their own price comparison website, you can earn thousands of $$$ every month by using The AxisITP Price Comparison Script.
---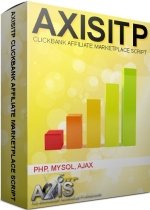 AxisITP ClickBank Affiliate Marketing Script is a leading and latest script. The script allows the admin to generate products, categories and hoplinks automatically in few clicks! Very easy to use with great CMS system in back-end side.
The AxisITP ClickBank Affiliate Marketing Script is a script which works for the ClickBank, it automatically adds the products from the ClickBank by using this script you can earn hundreds of $$$ every month.
Our Testimonials
AxisITP was very knowledgeable and nice people. great workers and high skilled expert to work with. I highly recommend them to anyone! .
He is the best worker I have worked with. I have been developing for 10 years and I have not worked with a smarter worker.
He's the boss! What an amazing worker! He impressed me beyond my imaginations! and my imagination is pretty good! He is like the superman of workers!
very nice and quick work.
AxisITP has done an excellent job with the website and I would hire them again.
AxisITP was a great group to work with! They have been very patient with me considering I wasn't able to make up my mind in the beginning. Once we finally got things straightened out they did a great job of turning my idea into a working webpage. If you need a website done you should pick Salman Abid and his group because they will do a great job for you!
Should be rated 11. Very patient and worked hard to complete the job. Communicates well and worked beyond scope of work due to glitch in my mysql/PHP files that he worked around.
A very attentive person that looks into all the details! Highly highly highly recommended! Professional at work is very different!!!
Once again - job well done - exactly as requested and very helpfull - would recommend to anyone
A+ If you need a tempate done then this is your man, hope to use again in the future.
Got the job done as expected, all problems sorted and good communications A++++++ Recommended
Excellent responsiveness to feedback and quality work!
This coder provided a high quality solution and reacted quickly to my questions as the project progressed